RF Mount
This camera features the RF Mount, which is durable and has a flexible design. It also delivers good speed. It has an internal diameter of 54 mm, and a flange focal distance of 20 mm. It even features a sturdy 12 pin connection which can be found between the lens and the camera. What's more, the Mount stays rigid, so rest assured, you won't have trouble handling it.
AE Mode
If you want enhanced flexibility along with convenience, then you can allow the automatic or manual functioning of features such as the aperture, shutter speed, and ISO by using the flexible-priority AE Mode (Fv).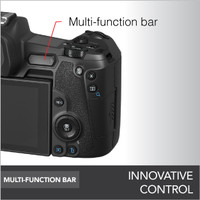 Multi-function Bar
It comes with a multi-function bar which offers a wide range of customising options that you can use easily. This bar can help you access these options during any intuitive or fast-paced shooting scenario. It is conveniently placed in a way that lets you easily access it with your right thumb. This bar can also perceive three touch actions which are - swipe, right tap, and left tap. Using these touch actions, you can easily modify various settings. Some of these settings which you can change are ISO Sensitivity, AF mode, Movie Modes, and White Balance. You can even check the manual focus. Also, it lets you put shortcuts during playback. What's more, it also allows you to check the photos that you have captured.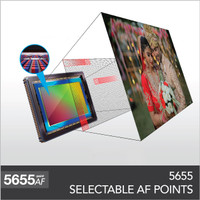 AF System
It comes with a high-performing AF system as it features around 5655 AF points. These AF points can be manually selected. This ensures that all the image sensing areas are thoroughly taken care of and effectively covered. Also, if you want to focus and capture a particular area precisely, then you can easily configure this camera for the same. To do so, you can make use of the wide array of selectable modes such as the Expand AF Area, 1-point AF, Large Zone AF, and Zone AF. Apart from these modes, you can also use the Face+ Tracking AF.
Touchscreen LCD
By using the Touch and Drag AF, you can easily select the suitable AF point from the 5655 AF points. You can access these AF points without even shifting your eyes from the viewfinder. You can use the Touchscreen LCD to point to the area that needs to be focused on. Once done, the AF point which you have selected will be displayed in the EVF of the camera so that you can confirm the changes.
Canon Log
Recording movies in dimly lit or bright settings can be tricky if the camera cannot deliver high-quality colour grading. However, the Canon Log lets you record movies in different backgrounds easily, as it provides a wider dynamic range which can accentuate the colour grading process. It also lets you retain the shadows and highlights in your video recordings after you have processed them. The Full HD and 4K videos which you have shot will have optimal contrast and sharpness levels. They will also have an enhanced dynamic range that can go up to 800% or 12 stops (at ISO 400 or more).